Chuyến tham quan Nông trại hàng năm của quận Montgomery và Bán Thu hoạch vào cuối tuần này Thứ Bảy, ngày 23 tháng 7 và Chủ nhật, ngày 24 tháng 7 năm 2022
Theo tin của quận Montgomery
BROCHURE LINK
https://www.montgomerycountymd.gov/agservices/Resources/Files/Farm-Tours/2019/farm%20tour%20brochure_WEB.pdf
OPEN SATURDAY ONLY
MP OLYMPIA
5511 Muncaster Mill Rd., Rockville, 20855
10 a.m. – 3 p.m.
301-926-9281 | www.camp-olympia.com
Come visit a Montgomery County landmark for our 61st Anniversary. CAMP
OLYMPIA has been serving children and adults through our year-round horseback
riding center, year-round nursery/kindergarten and our exciting summer sports
day camp. On Farm Tour Day you are invited to see a variety of demonstrations
including riding, sports and swimming performed by staff and campers. Different
demonstrations will be offered every half hour. Pony rides throughout the day $.
CHOCOLATES AND TOMATOES FARM
11104 Watkins Rd., Germantown*, 20876
9 a.m. – 4 p.m.
571-271-2686 | 301-655-4000 Alan Black
www.chocolatesandtomatoes.com
We are located on a 3 acre suburban farm site* demonstrating the inherent
resilience of local food economies and community. Certified organic, we
specialize in unique seasonal produce, handmade chocolates and love to grow the
unique plants chefs want to cook with! Inspired by the land, we aim to provide the
freshest seasonal products and our chocolates feature organic items grown on
the farm. In addition to educational tours there will be fresh produce, handmade
chocolates and delicious food for sale, live music, lots of fun and the joy found in
community. We hope to see you here for this very special 30th Annual, MoCo
Farm Tour.
DOC WATERS CIDERY
22529 Wildcat Road, Germantown, 20876
1 p.m. – 8 p.m.
301-253-4956 | www.watersorchard.com
Montgomery County's First Cidery! We offer hard cider, an adult beverage, made
from our own apples grown and pressed on our farm. Visit us on Saturdays from 1
p.m. – 8 p.m. We'll be on the porch, so dress to enjoy the outdoors. Cider is
available by the glass, flight or growler. In addition to our still and bubbly Orchard
Blends, we will also have a rotating selection of small batch ciders. Apple juice
and snacks are also available. Great farm outing for the entire family!
MADISON FIELDS
21355 Big Woods Rd., Dickerson, 20842
10 a.m. – 4 p.m.
301-349-4007 | Facebook: @madisonfields.md
Madison Fields, a project of Madison House Autism Foundation, a non-profit, is
located in Dickerson, MD. We are working to establish a premiere
community-based agricultural resource center where people of all ability can
access opportunities. Tours will run all day. We are offering pony painting from
noon to 2 p.m. Horse treat making and hay rides all day! You can learn more about
Madison Fields on our Facebook!
POPLAR SPRING ANIMAL SANCTUARY
15200 Mt. Nebo Rd., Poolesville, 20837
10 a.m. – 4 p.m.
301-428-8128 | www.animalsanctuary.org
Come tour a beautiful 400 acre farm bordering the C&O Canal and Potomac River,
and meet friendly horses, cows, sheep, goats, chickens, and turkeys. Poplar
Spring is an animal refuge dedicated to the protection of wildlife and the rescue of
abused and abandoned farm animals. Hay rides and sale of refreshments, giant
yard sale, t-shirts and crafts to benefit the non-profit sanctuary.
RED WIGGLER COMMUNITY FARM
23400 Ridge Rd., Germantown, 20876
10 a.m. – 3 p.m.
301-916-2216 | www.redwiggler.org
Join us on the farm for tours, a farm stand and live music. Interpretive field walks,
on the hour, will describe organic farming practices, our unique CSA program and
how we create an inclusive environment for all on the farm. There will also be
plenty of opportunities to taste, smell and take in the beauty of the fields. Red
Wiggler Certified Organic produce and local honey will be available
OPEN SATURDAY & SUNDAY OPEN SATURDAY ONLY
BUTLER'S ORCHARD
22222 Davis Mill Rd., Germantown, 20876
Open 8:30 a.m. – 5:30 p.m. | 10 a.m. – 4 p.m. (Farm Tour Activities)
301-428-0444 | www.butlersorchard.com
A family farm providing good, green fun and local produce for over 65 years!
Take a Tractor Driven Farm Tour and visit our farm animals! Ride pedal tractors
and our giant slides. Veggie races from 10:30 am -12:00 pm! Walk along our
Nature Trail. Picnic for lunch $. Our Farm Market will be stocked with our famous
Slushies, donuts and sample items from local vendors. Fresh seasonal produce,
preserves, gifts and baked goods in our Market. Over 20 Seasonal pick your own
crops including blueberries, flowers, potatoes, blackberries and tomatoes. 39th
Annual Pumpkin Festival weekends in October.
BUTTON FARM LIVING HISTORY CENTER
16820 Black Rock Rd., Germantown 20874
Noon – 4 p.m.
202-903-4140 | www.buttonfarm.org
Maryland's only living history center depicting 19th century plantation life. Tour
our Bank Barn, Farmhouse, Museum Garden and Slave Cemetery. Enjoy hands-on
history, heritage breed animals and purchase farm products.
HOMESTEAD FARM
15604 Sugarland Rd., Poolesville, 20837
9 a.m. – 5 p.m.
301-977-3761 | www.homestead-farm.net
Family owned and operated pick-your-own fruit farm growing a variety of crops
throughout summer and fall. Farm market has pre-picked produce, preserves,
and local honey. Visit website for current pick-your-own availability and
admission info. Please email questions (ahead of time) to:
homesteadfarmemail@gmail.com.
KING BARN DAIRY MOOSEUM
18028 Central Park Circle, S. Germantown Recreational Park, Boyds, 20841
Saturday 10 a.m. – 3 p.m. | Sunday 1 p.m. – 4 p.m.
301-254-6575 | www.mooseum.com
Walking tour of the James and Macie King Farm road with information about the
King family and life on the farm. Once again the MOOseum Barn will be showing
a video called "Growing Legacy – The Agricultural Reserve in Montgomery
County, Maryland", created by the Montgomery Countryside Alliance!! Our
restored Model T Ford milk delivery truck will be open for visitors to view and
learn about. It joins the restored 1890's milk wagon and model of B&O Railroad in
our Transportation Section. Other exhibits include some visiting farm animals for
the day, interactive Nutrition Exhibit, butter churning, life-size dairy breed
models, milking equipment, dairy farm locations map, farm family histories, a
model of the King farm home, as well as crafts, children's room and TWO milkable
model cows! Macie's Attic, our gift shop will offer "All Things MOO" for purchase.
KINGSBURY'S ORCHARD
19415 Peach Tree Rd. Dickerson, 20842
9 a.m. – 6 p.m.
301-972-8755 | www.kingsburysorchard.com
Kingsbury's Orchard is a family owned and operated farm dating back to 1907.
We grow more than 50 varieties of peaches, 20 varieties of apples and a wide
selection of cherries, nectarines and Asian pears. For additional information,
please visit our website.
LEWIS ORCHARDS
18901 Peach Tree Rd., Dickerson, 20842
9 a.m. – 7 p.m.
301-349-4101 | www.lewisorchardfarmmarket.com
Family owned and operated since 1888. We specialize in peaches, sweet corn,
cherries, apricots, plums, nectarines, apples, tomatoes, peppers, squash, okra,
eggplant, cucumbers, pumpkins and many other summer and fall vegetables.
Pick-your-own apples in the fall. We also have honey & jellies and many other
things. We are open mid-June thru Thanksgiving – Daily. Come and see our
beautiful view.
MCG GOLF
16601 W Willard Rd., Poolesville, 20837
Concessions: 11 a.m. – 5 p.m. | Fine Dining: Saturday 6:30 p.m.
240-907-2209 | www.mcggolf.com
While touring the beautiful agricultural reserve countryside, you may notice that
there aren't many restaurants around. Sligo Pit BBQ-The Best Backyard BBQ will
be ready to provide you with some refreshments, extra fun, and amazing flavors!
— no reservations needed. Just "swing" through for smoked brisket, pork,
chicken, baked beans, crisp coleslaw, creamy mac and cheese, and our
award-winning BBQ sauce! Dining will be available under the covered pavilion.
Kick back and relax, play a few games of cornhole, volleyball, or horseshoes, enjoy
some music, and have a super spring meal!
FINE DINING- MCG Golf Presents – A Starry Countryside Soirée. Join us at
Poolesville Golf Course for a one-of-a-kind, magical evening under the stars. This
unforgettable al fresco experience includes 3-course, fine dining across sprawling
farmland with wine, beer, specialty cocktails, music, and merriment. Enjoy
fantastic flavors of the season provided by Central Farm Markets and make
memories to last a lifetime. Seats are extremely limited, so be sure to grab your
tickets today — available online only $150 per seat.
www.eventbrite.com/e/2019-farm-tour-farm-to-table-dinner-tickets-56520663827
R.B. SAVAGE & SONS FARM, LLC
23035 Mt. Ephraim Rd., Dickerson, 20842
10 a.m. – 4 p.m.
301-370-7111 | Facebook: @rbsavageandsonsfarm
A family-owned and operated farm in the Montgomery County Agricultural
Reserve. Our on-farm-market offers produce from our garden, locally hand crafted
items and USDA inspected, farm raised beef, pork, chicken, lamb and goat. We also
have hay and straw. Pumpkins, gourds and mums in the fall for your decorating
needs. We will be providing burger, chips and a drink as a special for the Farm Tour.
Open year-round, Wed – Fri noon to 6 p.m., Sat & Sun 10 a.m. to 4 p.m.
ROCK HILL ORCHARD
28600 Ridge Rd., Mount Airy, 21771
Saturday 10 a.m. – 6 p.m. | Sunday 10 a.m. – 5 p.m.
301-831-7427 | www.rockhillorchard.com
Peaches and ice cream? Visit our farm to pick-your-own peaches then walk to the
dairy and watch our cows being milked with our robotic milker. We also have
cut-your-own bouquets, pick-your-own vegetables and blackberries. Hayrides are
free through the farm & orchard. Meet our beekeeper with his educational
observation beehive while you're enjoying a delicious dish of our own homemade
ice cream topped with our own juicy tree-ripened peaches. Fruit and fresh
vegetables, milk from our grass-fed Guernsey cows, honey, jams & jellies will be
for sale at our farm market. Come back in the fall for apples, pumpkins and our 9
acres corn maze.
ROCKLANDS FARM WINERY
14531 Montevideo Rd., Poolesville, 20837
11 a.m. – 6 p.m.
301-825-8075 | www.rocklandsfarmmd.com
Enjoy wine tasting in our historic bank barn tasting room, take a stroll around the
farm grounds with a glass of wine, or sit with family and friends while sharing a
bottle. Our delicious, handcrafted wines are produced and bottled here at
Rocklands. We are family friendly with an expansive kids play area. No need to
pack a lunch: wood-fired pizzas and grilled sausages are available all day! Shop the
on-site market and take home our 100% grass-fed beef and lamb, pasture-raised
pork, chicken, and eggs. Organized tour at 12:00 pm both days.
STAR GAZING FARM
16760 Whites Store Rd., Boyds, 20841
10 a.m. – 4 p.m.
301-674-5716 | www.stargazingfarm.org
Star Gazing Farm is a haven for abused, neglected, abandoned, and special needs
farm animals. Come and visit with our very special and friendly residents who
include: sheep, goats, horses, chickens, ducks, cows, llamas, dogs, cats, and
rabbits! There will be educational demonstrations of shearing, spinning and wool
crafting, humane and caring animal handling, and more. Lots of hands-on activities
for children: face painting, crafting and games, as well as guided tours of the
pastures with face-to-face meet-and-greets with the residents. Wool crafts, woven
rugs, yarn, and other hand-made gift items. Light refreshments for sale.
TUSCULUM FARM
4601 Damascus Rd., Laytonsville, 20882
11 a.m. – 4 p.m.
833-RED-BARN (833-733-2276) | www.tusculumfarm.com
Tusculum Farm (TF) the premier B&B and Events Venue perfectly located between
Washington, DC and Baltimore, MD in Laytonsville. TF has been a working farm
since 1747 with over 500 acres of never-ending views, crops, and animals alike,
there is not a setting like it in Montgomery County. We will be hosting farm tours
at noon and 3 p.m. both days. In addition, we will have food and beverage
offerings; kids games, live music and lots of surprises for all ages.
WAREDACA BREWING COMPANY
4017 Damascus Rd., Laytonsville, 20882
Saturday 1 p.m. – 8 p.m. | Sunday 1 p.m. – 6 p.m.
301-774-BEER (2337) | www.waredacabrewing.com
Waredaca Brewing Company is Montgomery County's premier farm brewery. Our
family owned and operated 230-acre working horse farm now includes an on-farm
microbrewery! We focus on approachable ales of the highest quality using
farm-grown ingredients. Visit our tasting room for sampling the beers and enjoy
the gorgeous views of our hillside pastures dotted with horses. We are very
family friendly.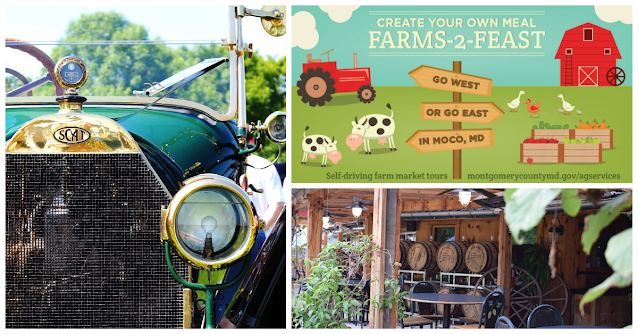 Annual Farm Tour & Harvest Sale Returns on Saturday, July 23, and Sunday, July 24, to Highlight the Best of Montgomery's Agricultural Reserve
The Montgomery County Annual Farm Tour and Harvest Sale will return after a two-year hiatus on Saturday, July 23, and Sunday, July 24, to highlight Montgomery County's Agricultural Reserve. About one-third (93,000 acres) of all County land is protected for agricultural uses under the policy that created the Agricultural Reserve.
The 30th anniversary of the self-driving Farm Tour and Harvest Sale was celebrated in 2019, but the Montgomery Office of Agriculture's informal tour was not held in the past two years due to the COVID-19 health crisis. The tour is back with 20 farms open to the public. The Farm Tour brochure can be viewed at brochure front (montgomerycountymd.gov). For more information, call 301-590-2823.
Several farms are open for "pick your own" opportunities. Some will be selling fruits, vegetables or meats. Refreshments will be available at other stops. Eight locations will have animals that can be viewed up close. Montgomery County's emerging brewing and vineyard industries will be found at seven stops.
The number of farms available on this year's tour is vast, but the Office of Agriculture has three suggested self-driving tours—each with an accent on different types of farm experiences.
Those tours are:
THE GRAPE & GRAIN TOURS
The Grape & Grain Tours are two separate self-driving tours. You can choose to visit three farm wineries, four breweries or easily combine both into a comprehensive tour of the Ag Reserve's craft beverage industry. Each venue has its own distinct qualities and all offer relaxing outdoor family friendly atmospheres. Food and/or music may also be available onsite.
FARMS-2-FEAST TOURS
Have you ever challenged yourself to create a meal made entirely from ingredients grown in Montgomery County? The abundance and diversity of farms make this a realistic goal and a perfect introduction to farm markets in the community. Choose a driving tour of farms within the County that are split between locations to the east or west of I-270. Both tours will provide a chance to purchase meats, eggs, fruits, vegetables, herbs, milk and desserts.
REVIVE THE SUNDAY DRIVE
Whether during the designated Farm Tour weekend or on another day, the Agricultural Reserve provides an opportunity for a relaxing, scenic, self-driving tour. The entire route without stops is approximately two hours. You can drive the entire route, drive part of the route or make a day of it by exploring the stopping areas noted.
Farms participating in the 2022 Farm Tour:
Butler's Orchard
Button Farm Living History Center
Camp Olympia
Comus Farm
Do No Harm Suburban Farm
Doc Waters Cidery
Homestead Farm
King Barn Dairy MOOseum
Kingsbury's Orchard
Lewis Orchards
Landmade Farm Brewery
Loan Oak Farm Brewery
R.B. Savage & Sons Farm, LLC
Red Wiggler Community Farm
Rock Hill Orchard
Tusculum Farm
Two Story Chimney Ciderworks
Waredaca Farm Brewing Company
Windridge Vineyards
61 Vineyard
Visit Montgomery has partnered with the County's Office of Agriculture to create an interactive experience through the Visit MoCo Adventure Planner App. Download the app by visiting https://visitmontgomery.com/adventure-planner or search "VisitMoCo" in your preferred app store. Click on the passport section to create a personalized itinerary in just a few clicks. When you visit a participating farm, check-in on the app for a chance to win an exclusive Farm Tour and Heritage Sale giveaway.
https://montgomerycomd.blogspot.com/2022/07/annual-farm-tour-harvest-sale-returns.html